Help bring life-saving treatment to children who need it most
Families in the remote Lake Chad Basin have been pushed to the brink by erratic rainfall, armed conflict and the devastating economic effects of Covid-19. Every day is a struggle and it's children who are suffering most.
The region of Lake Chad is hot, sandy and vast. The intense heat and erratic rainfall mean food often doesn't grow. Work opportunities have dried up because of the ongoing conflict, and the small sums people earn by doing odd jobs are simply not enough. Covid-19 has also severely affected the fragile economy and the trading of goods, with families being pushed deeper into poverty.
Chad was ranked a shocking 187 of 189 countries in the UNDP 2020 Human Development Index. 1.8 million people do not have enough to eat, with children under five most at risk. And when children inevitably become malnourished or sick, mother's face a heart-breaking choice: do they make the treacherous journey in extreme heat, past armed groups, to reach a health centre or stay at home and hope their child recovers?
You could help ensure a mother doesn't have to choose between safety and treatment for her child by helping to fund a mobile health clinic.
You could bring the treatment that saves their lives.
Bring life-saving treatment to children who need it most.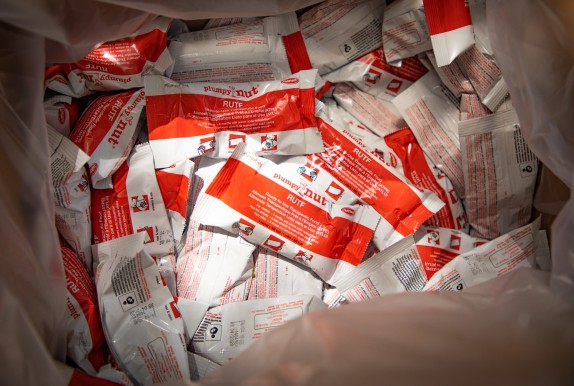 There are no roads in this area of Chad – just sand and scrub trees. Our mobile clinics can reach children and families in these remote places. Without them, they'd have to travel long distances to reach a clinic.
If the child was not treated, did not have help, he would have died.
What your gift could fund
Therapeutic food
Provided in ready-to-eat packets, this nutrient-packed peanut paste has been designed specifically to help children recover from malnutrition. It contains a carefully balanced mix of protein, vitamins, nutrients and calories to help children return to a healthy weight. You could help ensure mobile clinics have enough therapeutic food to treat the children they see.
The expertise of a doctor – on wheels!
It's terrifying for a parent to know their child is ill, but not know what's wrong or how to help. This is where the expertise of a doctor is priceless. Your support can help bring Concern doctors to the children and families who need them, so they can diagnose illnesses and offer treatment that saves lives.
Life-saving medicine
In addition to malnutrition, many children will contract illnesses that threaten their health and lives. Skin conditions and malaria are among the most common, but with proper treatment children can make a full recovery. That's why your support also makes sure mobile clinics have the medicine children need to get better.