Help keep children like Emmanuel safe from deadly malnutrition
The hunger crisis in the DRC, and across many countries in Africa, is putting millions of children's lives at risk right now.
A toxic mix of conflict, climate change and now the Covid-19 pandemic, has left many countries across Africa facing severe levels of hunger. The Democratic Republic of Congo (DRC) is no different, and because so many people are without enough food, it is now experiencing the world's biggest hunger crisis.
In the DRC alone, 3.4 million children under five are now malnourished and need urgent treatment. At home in the UK, this would be the equivalent of almost every child under five across the country being malnourished.
The situation is deteriorating and families are telling our staff that they're running out of options. Please can you help children and their families survive the hunger crisis?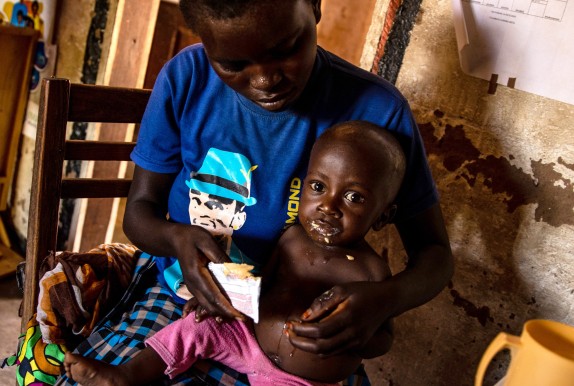 I want to donate
£22 could provide a month's course of therapeutic food to help save a malnourished child's life.
Many families in the DRC, have been pushed from their homes due to conflict and natural disasters. They have lost farms and their livelihoods, and have used up all their savings trying to get by. The additional strain of the Covid-19 pandemic has caused severe economic effects too. These factors are affecting food production, worsening food insecurity and fuelling hunger.
Now, families like Caustasie's are struggling to feed their children. "Life has become even more difficult than before. I grow what I eat, and if it doesn't succeed, we don't eat. The children don't eat," Caustasie says.
Sadly, without enough nutritious food, Caustasie's grandson, Emmanuel*, became malnourished. Fearing for his life, Caustasie rushed him to a Concern-supported health centre. Thanks to donations from people like you, Emmanuel was given the life-saving therapeutic food he needed to fully recover.
To Caustasie, having Emmanuel in her arms is the greatest gift of all this year.
With your help, we can save the lives of more children like Emmanuel and prevent deadly malnutrition too.
How you can help support our extensive health and nutrition programmes in the DRC and across many countries in Africa
Life-saving therapeutic food: When a child is severely malnourished, time is of the essence. You could provide a course of emergency therapeutic food; sachets of nutrient-packed peanut paste that malnourished children need to survive and recover.
Filling, hunger-beating food for a whole family: Often, when one child is malnourished, other children in the family are likely to be hungry and at risk of malnutrition themselves. By providing essential staples like beans and flour, siblings can eat filling meals to prevent malnutrition and stay healthy.
Seeds and tools to grow food: Make a lasting impact and tackle ongoing food shortages by helping families to grow their own food. With equipment such as rakes and watering cans, along with seeds to grow vegetables like tomatoes and cabbages, families will have what they need to stave off hunger.