Support Syrian refugees living in Lebanon
Since 2011, millions of Syrian families have had to flee their homes across the country to escape the ongoing, intense conflict. But those who found refuge in neighbouring Lebanon are now living in extreme poverty and unable to return home.
Families have lost so much: their loved ones, their homes, their jobs. Many of the people we're supporting had no option but to flee and quickly find refuge elsewhere in Syria or in neighbouring Lebanon. But in a country facing its own economic and humanitarian crises, life for Syrian refugees in Lebanon is not easy. One of the many challenges they face is finding the means to provide for their families.
Can you help us reach more Syrian refugees families with the means to survive and build sustainable livelihoods?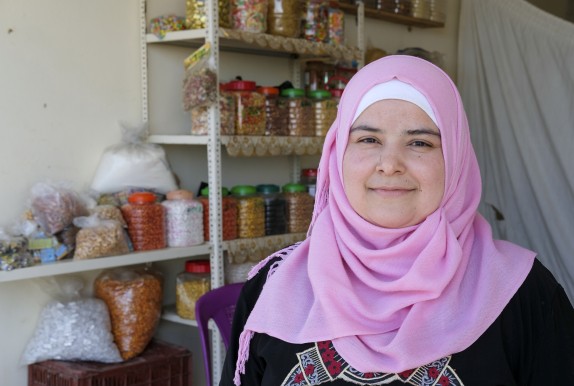 I want to donate
£35 could help a Syrian refugee receive training to start a small business and provide for their family
Mother of two Bushra* had to leave everything behind when the conflict in Syria broke out to keep her family safe. She now lives with her two children and her mum in an informal tented settlement in Lebanon.
As part of Concern's work supporting Syrian refugees, Bushra has been attending business training and has received a start-up grant from Concern. Since 2019, Bushra has been running her own small grocery shop, where she sells beans, lentils and sweets to Lebanese and Syrian people.

It is difficult being a refugee in a new country. You are on your own. Before, I considered myself a weak person, but the training proved that I am strong. To handle this kind of business, in these circumstances, demonstrates that I have strength. I am capable of doing this."
4 ways your donation could support Syrian refugees in Lebanon
How money is spent
Overseas programmes
Overseas programmes
Policy, advocacy & campaigning
Policy, advocacy & campaigning