Help children in crisis get a healthy start
You can give babies the building blocks to a healthy, happy life.
The first two years of a baby's life are so important for their future. If babies don't have the proper food and care during this special time, the effects can be devastating. Nearly half of child deaths worldwide are linked to malnutrition. And even for those who do survive, many must live with the consequences: they are likely to be small for their age, perform less well at school and be more susceptible to illness.
That's why your support is so important.
The first two years of a baby's life are so important for healthy development and growth. Watch the video to learn more about how you can improve the lives of children in need.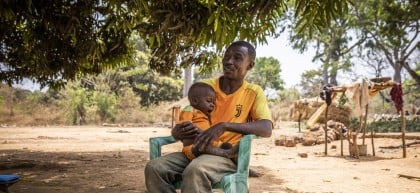 You'll help mothers give birth to healthy babies
If a mum doesn't have enough to eat during pregnancy, it can lead to dangerous low birth weight and poor growth in their children. Your support could help provide antenatal care and nutrition for expectant mums.
You'll be helping babies survive in times of crisis
When food is scarce due to poor harvests, tragically it's the children who often suffer the most or die. Your gifts will help provide life-saving food for malnourished children.
You'll help a baby through to the critical milestone of two years old
Your support will, over the next two years, give children growing up in extreme environments and facing challenges like hunger and poverty the chance to grow up healthy.
Why unrestricted, regular giving funds are important
Budgeting
That's the best way Concern can plan and budget. As about half of our work is dedicated to responding to global emergencies we never know when, where or what kind of an emergency we are going to be dealing with next. This obviously requires us to be prepared and ready to go with all the supplies we need at any given time.  
We are always very happy to receive donations by post.
You just need to print and complete one of these forms:
Please make cheques payable to Concern Worldwide.
Our postal address for donations is:
Concern Worldwide
47 Frederick Street
Belfast
BT1 2LW
You can also donate by telephone:
Just call our Supporter Care team on 0800 032 4001 between 9am and 5pm Monday to Friday and they can process card payments over the phone.