Help mothers and children living in Kenya survive hunger
Kenya is currently experiencing its most severe drought in recent history, with millions of people facing starvation. Right now, 4.4 million people need urgent help to survive.
Many parts of East Africa are facing the worst drought and famine in 40 years, with Marsabit and Turkana in northern Kenya being hit particularly hard. Food insecurity is soaring to emergency levels. Many families are on the brink of starvation and 942,000 children under five currently need urgent treatment for malnutrition.
Lowiriyen and her 18-month old daughter, Lagu, live in Marsabit. The harsh conditions in the region have meant that much of the community have lost their livestock and have been left without a sustainable livelihood. With only limited access to food, mothers like Lowiriyen have been left with an unimaginably difficult task of feeding their children.
Will you help people living in Kenya survive hunger?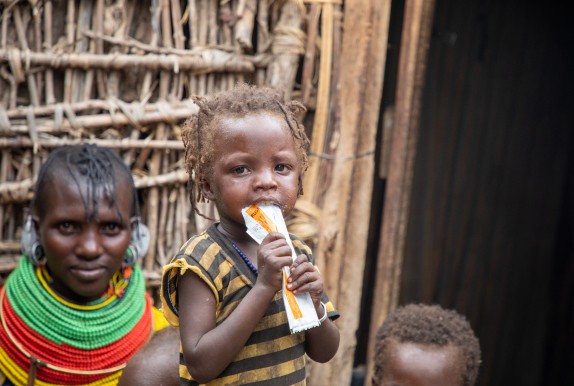 I want to donate
Will you give life-saving help to families living in Marsabit?
Traditional pastoralist communities in northern Kenya are being severely affected by the drought. Much of the plant life in the region has disappeared, and without vegetation to feed on, livestock has starved to death. Many herdsmen have left their communities to look for work elsewhere, leaving behind their families.
To survive, mothers in Marsabit are coming together to share food and resources. Mum of two, Lowiriyen, has lost all but one of her goats to the drought, which has devastated her ability to provide for her family and feed her children. Her daughter Lagu has become severely malnourished.
Thanks to donations from people like you, Lagu is now recovering after receiving emergency food at a nearby Concern-supported clinic. Other mothers, such as Lucy Ngiposho, who also lost her livestock and whose children have been affected by malnutrition, has been receiving emergency cash assistance from Concern, enabling her to buy food for her family.
Despite this, circumstances for Lucy and Lowiriyen are still tough.
A gift today can protect lives in Kenya and prevent more families from going hungry. A gift could...
We have been working in Kenya alongside local organisations and communities to combat hunger in the region. As situation worsens, we are expanding our humanitarian and emergency response work in Kenya hoping to reach those at risk of starvation.
With your help, we can continue to provide emergency food for children and breastfeeding mothers, particularly in Marsabit and neighbouring Turkana, the worst-affected counties.
Can you help mothers and their families to do all they can to survive hunger?
Listen to a message from Faith Atyang, the health and nutrition manager for Concern Worldwide in Marsabit, north western Kenya.