Concern Philanthropic Circle
Transforming lives through the Graduation Programme
Becoming a member of Concern's Philanthropic Circle is about more than a donation, but rather an investment, which helps change the lives of some of the world's poorest people for good. The Circle collectively raises funds to support our programmes with a minimum commitment of three years. 
Supporting families in the Democratic Republic of Congo
The Circle is currently funding our Graduation Programme in the Democratic Republic of Congo (DRC), a country which ranks 179 out of 191 on the Human Development Index (2021). Decades of conflict have exacerbated levels of food insecurity and displacement, resulting in it remaining the world's largest food crisis, with 26.4 million people – a quarter of the population - facing acute food insecurity in 2023 (IPC 2022).
The Graduation model is an innovative approach to addressing such extreme poverty.  It works by accurately targeting extremely poor households and delivering a comprehensive package of support including regular financial support, training, coaching, savings support and a start-up grant on completion of the programme.
The Graduation Programme in DRC works with communities to improve access to safe water and sanitation facilities and to promote positive hygiene practices to reduce vulnerability to water-borne diseases and health-related shocks. By working alongside community leaders, the programme also works to address issues of gender inequalities that continue to lead to discrimination against women and girls.
The aim is to sustainably lift households out of extreme poverty by equipping participants with diversified livelihood options and increased resilience to lifecycle shocks and stresses.
The Circle's new 'Green Graduation' project in Ethiopia
After two highly successful phases of our Graduation funded by the Concern Philanthropic Circle our attention now focuses on Ethiopia, a country where over 7.2 million children are waking up hungry each day, and 69% of the population are living in poverty.
In addition to the key component of our Gradation programming, Concern teams will be implementing our new 'Green' approach. Given the critical links between the aim of Graduation and environmental protection and sustainability, this means:
Understanding the risks and challenges associated with climate change and the contexts in which we are working to understand how they may affect the success and impact of the Graduation programme.
Minimising the negative effects (pollution, degradation) programmes have on the environment (land, water, air, biodiversity) but also on larger environmental impacts such as climate change and resource scarcity.
Enhancing positive environmental practices and promoting sustainable natural resource management.
Increasing the communities capacity to anticipate and adapt to hazards which would put them on the front foot.
Read more about 'Greening Graduation' here.
'Green Graduation' in action
In Burundi, meet Virginie and François who have five children, only one of whom is at school. They live at the side of the road in a house that is in dire need of repair – the roof is made of grass with a plastic sheet underneath.
The family is one of 1,200 households recently selected for the Green Graduation programme in the provinces of Cibitoke, Bubanza and Kirundo.
Virginie said: "With this project, we could build a sustainable house and also start some small businesses. When it rains, the water enters our house and when it's windy, we are always frightened that it will collapse. First of all, we will try to find good materials for construction and good metal sheets for the roof. We have to stand up when it rains because it is difficult for us to continue sleeping.
In our Green Graduation programme in Rwanda, Mum-of-three Alexia was identified as a great fit for joining the programme.
After investing in a sewing machine, she started up a successful tailoring business, making on average 20 outfits for women each week. She plans to expand and eventually open a hairdressing salon, and is currently receiving lessons on hair styling.
Alexia received shelter support as part of the programme which included paying casual workers to help renovate her home, and the installation of metal sheets for the roof.
Alexia said: "When Concern selected me, we received training about income-generating activities. As part of that, I bought a sewing machine. With the sponsorship I received, I was able to pay a teacher to instruct me on how to tailor. I chose sewing because it's a skill that doesn't age and it's a good way to earn a living. I have children and it will be easy for them to pick it up too. I paid to learn these skills, but now, I will be able to teach my children myself.
Want to discuss becoming a member of Concern's Philanthropic Circle?
How your donation is used
78.9%
Overseas programmes
78.9% of your donation goes towards our emergency response and long-term development work, working together with people living in the most difficult situations, rebuilding and transforming lives, livelihoods and communities.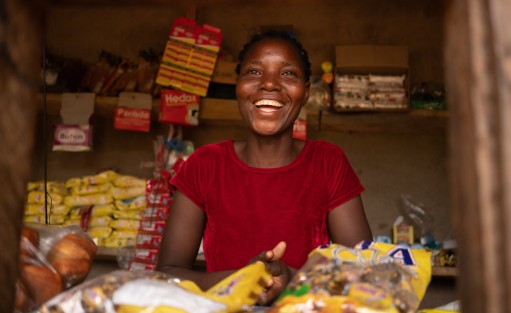 16.7%

Fundraising

This is money spent to raise funds for Concern's work.

4%

Policy, advocacy and campaigns

We invest money to campaign, lobby governments, run petitions and put pressure on decision-makers to tackle the underlying causes of extreme poverty and push for change.

0.4%

Governance

Funds spent to ensure Concern is compliant and adheres to the highest standards.
Find out more