Coming back from crisis with twice the impact
You may remember that in September 2015 we launched our Comeback from Crisis appeal – by the end of that year it had raised an incredible £1.6million. This was all thanks to you - our generous supporters.  All of your donations were matched pound for pound by the UK government meaning your gift was worth twice as much.
Money raised enabled us to launch a new project in Sierra Leone where families were hit hard by the Ebola outbreak and we'd like to update you on how your donations are being spent.
Tonkolili is one of Sierra Leone's poorest districts, with 76% of people living below the poverty line.  Even before the outbreak, more than one in five people were severely food insecure – meaning they often struggled to get enough to eat. The Ebola outbreak made things worse. At the peak of the Ebola epidemic the country was effectively in shut down, causing massive disruption to people's livelihoods. Many households were placed under quarantine meaning farmers were blocked from accessing their farms. Unable to harvest their crops, they lost all of what they had planted in that period.  Whatever small amount of produce they did have was consumed, so families were left with nothing to eat or to sell. Even if they could sell, the markets were all closed.
Although the outbreak of Ebola has long since ended, the village still suffers. Tragic times have left its mark.
Field schools feeding families
One aspect of our new project is to improve the quality and quantity of food production, and raise incomes so that people can avoid the threat of hunger. We have established 25 farmer field schools, where 750 members are learning how to increase their crop production and grow better food. Yadema Koroma lives in Makelfa village in Tonkolili. While Yadema escaped the deadly disease, her extended family were not all so lucky. Yadema lost her uncle and her second cousin. "It was a very difficult time", she says.
Yadema has noticed a lot of improvements since the project began in her village.
"We were introduced to a new farming system through the farmer field school", she says. Specifically, she is a member of a farming co-operative of women. The members rotate work on each other's farms and any of the members who do not own their own landreceive money for their labour instead.
Of all the improvements the community has experienced, the new farming system has meant the most to Yadema. "It is from farming that we get our food", she elaborates.
With the new methods, we actually planted a lot of vegetables and when we harvested them, we had a large amount so that was very helpful. We were able to use the money we made from those crops to become members of the village savings and loan group.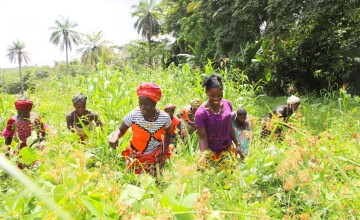 Saving money, saving lives
Village savings and loan groups set up by Concern make a big difference to the rebuilding of lives.  The premise for the scheme is simple. To become a member of the group, regular contributions to the fund are necessary. Members elect a committee to manage the fund, which is stored in boxes, and three committee members are nominated to hold the keys to the box. All three keys are required to open the box. After contributions are made, appointed members count the money and the book-keeper records the amounts contributed.
Members of these groups save collectively, creating a reserve that's available for loans either when times are hard or to help set up small businesses.
Salay Sesay places a huge value on the improvements that the village savings and loan scheme has made.Salay was amongst the first in her village to contract Ebola. Salay's three children, aged between four and ten years old and her father, also all contracted Ebola.
When the Ebola outbreak came to Sierra Leone, unfortunately it came to our village. At the beginning, two of us were taken from the village. One died, and I was fortunate to survive.
Thankfully, all the children survived but tragically; her father did not.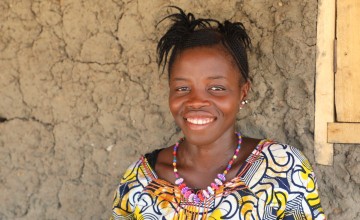 Salay could not emphasise enough how important the village savings and loan groups were to her and her community.
She explains, "It has helped us a lot. When I have a problem, like paying school expenses for my children, I can go to the group and request a loan". While there are no fees for attending school, the costs for unfirms, books, bags and stationary mount up and become an obstacle for women like Salay to send her children to school. The savings and loan group has offered her a lifeline.
As you can see our new project has already transformed lives demonstrating the impact that your donations and funding from UK aid has on the world's poorest and most vulnerable.
This project will continue over the next few years and will help families to live a life free from hunger. Thank you for helping us to launch this project –without your support it would just not have been possible.