How debating global issues helped a student find her voice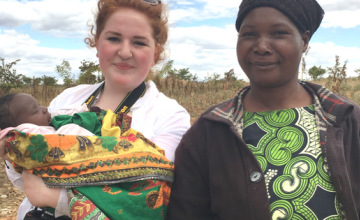 Sorcha, from Ballycastle, Northern Ireland, took part in Concern Debates, and is now studying International Relations at Birmingham University.  Sorcha captained her college team to victory in 2016 against more than 150 schools to win the competition. The prize saw her and five of her team mates visit Concern's projects in rural Malawi which focused on gender equality and empowering women. We chat to her about being part of a "global community", what she believes to be the biggest thing holding people back from aiding some of the most devastating problems, and why everyone should get involved with the programme!
1. Why did you get involved in Concern Debates?
I was intrigued by the idea of debating throughout my school career, and Concern Debates became the competition which I was heavily involved with because of the wide-ranging topics, and the overall atmosphere of the debates themselves.
I got involved with debating as I didn't have the opportunity to study A Level Politics, however I needed something which would challenge of my personal and political beliefs in a way that I wouldn't have been able to get by just reading in my own time. Concern actively encourages debaters to question their beliefs, and to think critically, which is the skill that has been most important in my studies of politics so far!
2. Why did you want to get involved with Concern?
The ideals behind the charity and the work that they do all across the globe aligns with my view of the world and of our responsibilities as western and privileged people to provide aid to those who need it. Also travelling to Malawi as a result of winning the competition was an utterly life changing experience, which solidified my belief in the success of such projects and the good that they do on countless levels. Additionally I would love to maintain a level of involvement with Concern as the experiences which the Concern Debates provided me with were highly influential to my studies of International Relations currently.
3. What are the issues that are most important to you?
For me, feminism is arguably the most pertinent issue in our global society at present. I feel that a large proportion of the problems that people all over the world are faced with have their roots in systemic gendered stereotypes and the disadvantages that come alongside them.
Also a general lack of awareness of current global issues is something which I believe is holding people back from making decisions which could aid some of the most devastating problems in the world. Everyone cannot know everything, however a basic understanding of and interest in current affairs, particularly amongst young people, is something I believe to be of vital importance.
4. How have Concern Debates influenced or inspired you?
The Concern Debates inspired me to be more confident with my thoughts and beliefs, and helped to show me that beginning to specialise in one area of particular interest is vastly complemented by knowledge of all pertinent issues. They encouraged me to share these thoughts and insight discussion with my peers both inside and outside of university- proving that little by little, I can make a difference.
5. What are your hopes and plans for the future?
As I mentioned, the Concern Debates influenced my decision for what I am currently studying at Birmingham, and so I would say that my hopes for the future are to become involved in projects similar to that which I was able to witness and take part in when in Africa. Projects in which I can combine my political and academic knowledge, but also my drama and teaching background to create something which will make tangible difference.
 A well-used phrase throughout my time in the Concern Debates was that we are all "global citizens" part of a "global community" – so my interest lies with anything I can do in my life to live up to these phrases by making a positive difference!
6. Any tips for people interested in getting involved in debates?
The ever-cliché term 'Just Do It!' springs to mind! I would say that it is not as difficult as an apprehensive student or teacher may think it is. So the best thing to do is gather like-minded people who are engaged and enthusiastic and give it a go. The great thing about the Concern Debates is that you are given the space, encouragement and education to learn as you go. Also, staying true to a style of speaking that you love and that you know will work for you is a brilliant idea- if you approach the competition with personality and passion, everything else will fall into place!
Thanks so much!