"Hunger is not a natural phenomenon…it's a political one"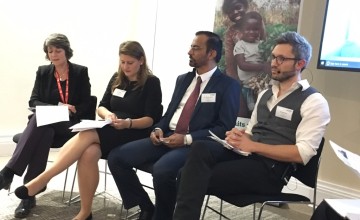 Last week, on World Food Day, we launched the 2017 Global Hunger Index with a lively panel discussion on how inequalities are a barrier to ending hunger. The Global Hunger Index tracks the state of hunger worldwide, country by country, and spotlights where action is required urgently to address hunger. This year's report shows that the world has made progress in reducing hunger since 2000, but that this progress has been uneven, with levels of hunger still serious or alarming in 51 countries and extremely alarming in one country.
This year the world once again faced the prospect of not one, but four potential famines, with famine being declared in South Sudan in February, putting at risk the lives of 100,000 people. We have also seen for the first time in over 10 years, we have seen a rise in hunger levels, from 795 million to 815 million people.
So what is standing in the way of ending hunger?
Our expert panel sought to find out. We were delighted to be joined by Lord Cameron, long time champion of international aid and fair international agriculture policy, who chaired the discussion.
Naomi Hossain, Research Fellow at the Institute for Development Study, kicked off the discussion by emphasising the importance of producers and consumers in the world's poorest countries to have a greater say in world food policies and international forums; "being invited to sit at the table is not the same as deciding what goes on the table" she said.
After hearing from Naomi, Lord Cameron opened the debate up to the panel and asked about the impact of inequality on ending hunger and to what extent hunger is political. Here's what they had to say:
Which inequality is it most important to address and how do we begin?
The panel agreed that the empowerment of women has been proven time and again to have the biggest impact on improving the lives around the world. Addressing this universal inequality would have a dramatic effect on hunger levels. However many of the panel drew attention to large scale inequalities between countries and the global food system.
Tackling hunger means redistributing power within the global food system.
Naomi also drew attention to movements such as La Via Campesina and said that now is the time to think about a global right to food movement.
Is hunger a political issue then, rather than purely about access to resources?
The panel largely agreed that hunger was a political issue, and identified that the world currently produces enough food to feed everyone. Jason Hickel, author and anthropologist at the London School of Economics, put it best when he said:
Hunger is not a natural phenomenon…it's a political one.
"We have enough food & systems of democracy but they both need to be distributed" said Theo Clarke, Conservative candidate for Bristol East, advocating for the distribution of democratic institutions as well as food resources.
However Tamsyn Barton, Chief Executive at Bond, said that "Amartya Sen's argument is that where there's democracy, there's no hunger, but several countries have both" highlighting that even when democratic institutions are in place people can still go hungry.
World leaders signed up to SDGs in 2015 that commit to ending global hunger by 2030. How are we going to start to get there?
Jason Hickel called for a shift away from the paradigm of charity to the one of justice for the world's poorest.
Dr Mazhar Alam said that often when large humanitarian responses take place it can create a culture of need. He stated the need to strengthen resilience of communities to lessen the impact if future disasters. Without this it would be difficult to permanently reduce hunger.
It was also highlighted by Theo Clarke that the private sector must be engaged, as private organisations, from individual small holder farmers, to large international businesses will play a part in reaching this ambitious goal.
Overall the panel agreed more focus needed to be placed on inequality, and that all sectors need to work together and address political challenges, if we are to have chance of ending hunger by 2030. It was a fascinating discussion and great turnout.