"We lost 10 people in my family" - The harrowing stories of Turkey's earthquake survivors
The destruction caused by the earthquakes - the strongest to hit the region in 80 years - is unthinkable. As of the time of writing on February 13th, the death toll across Turkey and Syria has passed 33,000. Entire families have been wiped out; thousands of children are now orphans. 
Those who survived the earthquake now face homelessness, lack of food and water, and freezing winter temperatures without adequate shelter, all while grieving the loss of loved ones. 
Concern has been working in both regions for the past 10 years, and had hundreds of staff on the ground who were able to begin responding within hours of the emergency. Across various community centres providing shelter, food and heat, we spoke to some of the people affected by this disaster, about their experiences and their worries for the future. 
We met Burak* and his parents sitting by a fire outside a completely destroyed building in Adiyaman, Turkey, that was previously their family home. Once eight floors tall, the building is now just one storey high, having collapsed to a pile of rubble following the earthquake. The family were buried beneath the wreckage, but miraculously managed to escape. Burak, a mariner by profession, has now been living on the street for five days and nights, facing brutally cold temperatures.
"We lost 10 people in my family because of this earthquake, including my mother's sister and her brother's family. One of them was a two-month-old little baby.
"Just after 4am everything started rolling. I was awake, texting with my friend when it happened. I grabbed my family and we lay on the ground trying to find shelter, and covering our heads. The building started to crash down — everything collapsed and we were buried. I started digging and after about an hour I managed to open a hole in the wall and managed to get out. I pulled out my father, then my mother and my sister. They are okay, thankfully.
"Since that time, I have been working at other collapsed buildings to help other people. On the first day we found a lot of people alive, but since then there have been a lot of dead people. Many of them were little children. It is so sad. I am staying here to keep working and help others. I have had good fortune and I must do this.
"The other buildings are not safe now and nobody has gone back into them. Everybody has been staying on the street. We are afraid another earthquake will come and more people will die. My family are on the street, my mother and my father. I have managed to send my sister  away to relatives. Many people have left this place. I will try to send my parents, but my mother doesn't want to leave. This is her home.
"We are finding wood to burn to stay warm. People have sent clothes and food and we are very grateful. To people in other countries, I would say please send us help. The situation is so bad.
"I will go back to sea and work to make enough money for my family to rent a new house and maybe someday we can buy a new one."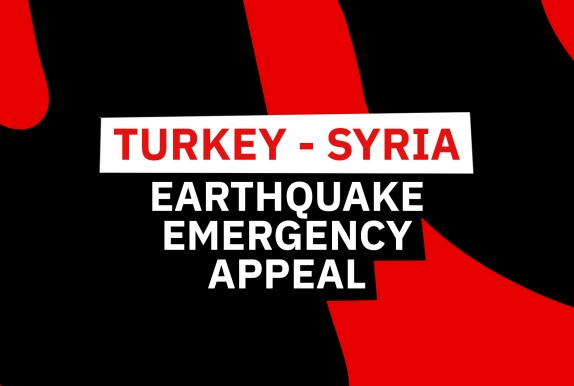 In the parking lot of a small shopping centre in the city of Adiyaman, an informal tent encampment has been set up. Families are now taking shelter here, after Adiyaman, a bustling city of around 600,000, was devastated in the quakes. Many buildings are uninhabitable, while dozens more have collapsed entirely.
Among those who have found safety in this parking lot is Mehmet and his extended family of 20 - the oldest being 70, the youngest just five. 
"We were residing on the 8th floor, sleeping soundly on what was a peaceful night. Suddenly, we were jolted awake by a violent earthquake, and we realised that a significant number of buildings had been destroyed.
"Once the earthquake subsided, we attempted to compose ourselves. However, our state of mind was severely impacted, and we looked around as if it were Judgement Day. We ventured outside our home, only to find that parts of the staircase had been destroyed and the walls were cracked. We made our way down the stairs, only to discover that outside was in ruins. When we reached our car, everyone was crying. We started searching for other family members, as each family was in a different location. It took us time to locate our loved ones, and then we decided to come to this safe place.
"We have received necessary items such as food and clothing, and we are grateful for their generosity. However, we still face challenges with regards to shelter, hygiene and heating. We are still in need of these resources. We are feeling sad for the loss of our relatives, and we are struggling to come to terms with what happened to us. Despite these challenges, we are trying to cope to overcome them. 
"We were without anything for the first couple of days. The weather was awful, it rained and snowed, and there was no safe space. We were freezing, and we had run out of gas. 
"The house situation is very bad and not habitable. Our house resembles Azrael (angel of death) to us, so we do not want to be close to it. Perhaps our mental health will improve when we no longer see the house. All of the house's foundations are damaged. 
"We are trying to accept the reality. We anticipate that [rebuilding] will take several years to complete, and it is unclear if they will begin constructing the houses immediately."
After her home was badly damaged in the earthquakes, Irmine and her family - one of whom has a chronic illness - took shelter at an exhibition centre in Sanliurfa. They are among 9,000 people who are receiving basic necessities like food, water, hygiene supplies, and heating in this venue.
"My family, especially the children, were very shaken by what happened and they are afraid of being inside any concrete building. Four people in our building died in the earthquake. This centre is made of steel and we feel safer here.
"It's very difficult, very difficult for us. And because it's cold outside, we are spending most of our time in here with thousands of other people. We have nowhere else to go. There are five children here with us. 
"We are getting food here and there are heaters, so the conditions are okay for now. We are lucky, because other people are in worse conditions, but we cannot stay here for a long period. We don't know what the future will hold."
Concern's response in Turkey and Syria
Concern's emergency response team has conducted rapid assessments across both southern Turkey and northern Syria to best assess what is needed. Our team has begun constructing safe sleeping areas to provide shelter from the weather. This includes establishing collective centres in safe buildings, as well as erecting tents in clear areas. We are also providing blankets, mattresses, hygiene kits and heaters to those most in need.  
Due to a lack of cooking facilities, Concern has focused on providing hot meals to those affected by the earthquake, and our team has begun sourcing additional supplies to scale up our response rapidly.
Our staff are exploring the immediate expansion of programming to include cash transfers, WASH and psychosocial support to those in need.  
*Names have been changed