East Africa Hunger Crisis
As millions of people face starvation across East Africa, will you help provide life-saving emergency food to children, like Lopoori?
East Africa is experiencing one of its most severe droughts in recent history, with more than 23 million people facing dangerous levels of hunger in Ethiopia, Kenya, and Somalia, and 7 million people in South Sudan. The current conflict in Ukraine has only exacerbated the situation, causing food and energy prices to rocket.
This year alone, about 5.7 million children are expected to be acutely malnourished across the four countries.
We're fighting to prevent the situation getting worse, but we need your help to save the lives of more children like Lopoori, pictured. Anything you can give today would make a huge difference. Please, will you help save children's lives?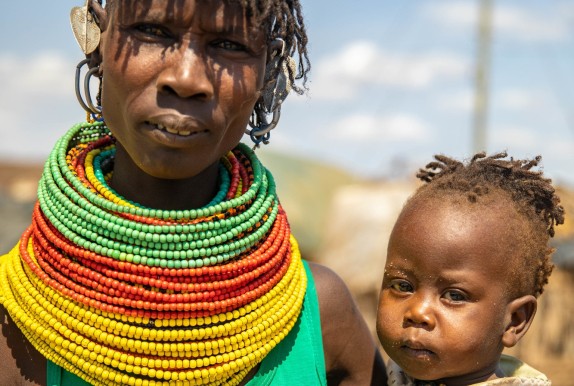 I want to donate
£16 can provide two families with a week's worth of emergency food including oil, rice, flour and beans
Meet Lopoori's mum, Akiru.
Like many people living in Northern Kenya, Akiru's community are nomadic pastoralists, herding sheep and goats near Lake Turkana to provide for her three children, either by drinking their milk or selling them to buy food and pay for school fees.
Now, due to the climate crisis, Akiru and her family are struggling. 
Akiru and her family have little access to food as crops and livestock are dying so easily. Akiru tightens the material of her clothes around her stomach to prevent the feeling of hunger as she often goes for days without food so that her children can eat.
As part of Concern's programme in Marsabit, cash transfers have been given to people most in need in the village, and Akiru was one of them. Now she can buy essentials like food and animal feed, to keep her family healthy, protect her livelihood and prevent little Lopoori from becoming malnourished.
I don't even want to imagine what would have happened if we hadn't have got this help - you would have seen a very different situation here. I want to say that I'm so thankful to Concern and to the donors. I want them to know that their money is not wasted - it has really reached the real people who need the help.
Concern staff in action, across East Africa
By donating a gift right now, you could make an incredible impact.
What your gift could fund
Emergency therapeutic food: Give a life-saving course of therapeutic food sachets to a severely ill child and help make sure they don't reach the brink of severe hunger.
Essential medicine: Stock our Health Centres with medicines to help extremely ill children recover from conditions like malnutrition, malaria, diarrhoea and worms.
Local Health Centres: Give our specialist teams in the 870 Health Centres we support across the Horn of Africa the vital equipment they need to treat malnutrition and help families stay healthy.
Emergency cash: Help families like Akiru buy food for their families by providing them with emergency cash.