Niger is in the grip of a terrible drought and people are rapidly running out of ways to feed their families.
Four-fifths of the northern part of the country is desert, making agricultural production a challenge. That's without the erratic rainfall patterns and frequent droughts. And for a country where 83% of the population rely on farming to live, the consequences are severe. 
Summer is the lean season – the gap between one harvest and the next. In better times, food like cowpeas and millet would be stored away so families could eat during the summer months. But this year's harvest has been catastrophic.
Not only do families have no food stored but they've lost their livelihoods and means to earn a living. And with rising food prices and high inflation as a result of this drought, they can't even afford to buy it. It's a vicious cycle.
The lean season has only just begun and already families have nothing to eat.
Niger is in crisis. Will you help children survive?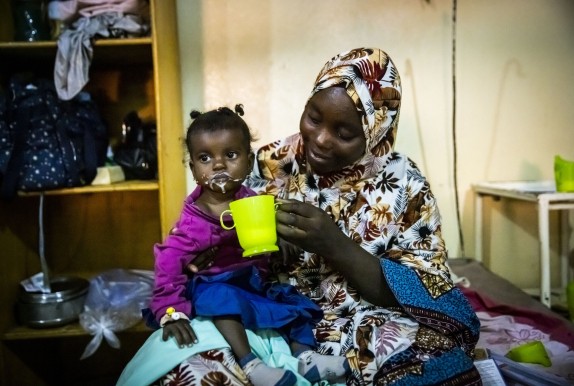 Aicha is a mother of three and lives in the Tahoua region. A warm and open woman who has a big heart and a great sense of humour. But despite her smile and easy persona, Aicha's life is not easy. The knock-on effect of the drought has impacted her husband's work and Aicha's own business has also dried up. She used to make and sell peanut treats but the cost of nuts has risen so much that she can no longer afford to buy them.
Getting enough money to feed the family has been a challenge and the family live daily.
Aicha was becoming increasingly worried for her youngest daughter, eight-month-old Siyama. When Siyama stopped playing and the diarrhoea started she knew it was serious.   
I noticed the signs of malnutrition were there – the weight and visible bones.
She had rushed to the clinic on a borrowed motorbike with Siyama bound closely to her side. Aicha was desperately worried – when she arrived, Siyama weighed just 5kg (about 11lbs).
My first reaction was to come to the clinic because I know they will have the solutions.
Thankfully, baby Siyama received the nutritional food she needed to save her life.
I am very happy my child is getting well. Even her face has changed.
Unfortunately, Siyama is one of 400,000 children suffering from severe malnutrition in Niger. Mothers like Aicha are doing everything they can: they're saving money, trying to find work and going hungry themselves. But this drought has destroyed nearly everything, and now the lean season is here. We absolutely must act now to save lives.
Provide fortified flour
Made from millet, soya and peanuts and enriched with vitamins and micronutrients to support the needs of growing babies. Mums in Niger use fortified flour to make a porridge to keep their babies fed and healthy.
Provide an emergency food package
Your support in action: Before and after
Summer might seem short in the UK but in Niger it feels like a lifetime. Families are strong and resourceful, but the severity of this drought is causing extreme hunger. Families can't grow food, or afford to buy it. Please give what you can today, to help children survive.