No child should call this home
Vulnerable, cold and scared: refugees are barely surviving in dangerous and unheated shelters in Lebanon.
Since the beginning of the Syria crisis 12 years ago, more than 14 million Syrians have been forced to flee their homes in search of safety.
An estimated 1.5 million of them have come to Lebanon, putting incredible strain on the country's housing and infrastructure. Lebanon's economy collapsed in 2019, and the knock-on effects of the pandemic and war in Ukraine has sent the prices of food, fuel, medicine and rent sky-high. The average rent has tripled, and refugee families are making incredibly difficult choices to survive. Many have been forced to flee the relative safety of derelict buildings to live in flimsy, leaking tents pitched in waterlogged fields with no sanitation just to make ends meet – places no child should call home.
Mothers are trying desperately hard to keep their children safe and well, but every day is a battle for survival. And now winter is coming.
 
Will you provide vital shelter and protection to vulnerable families this Christmas?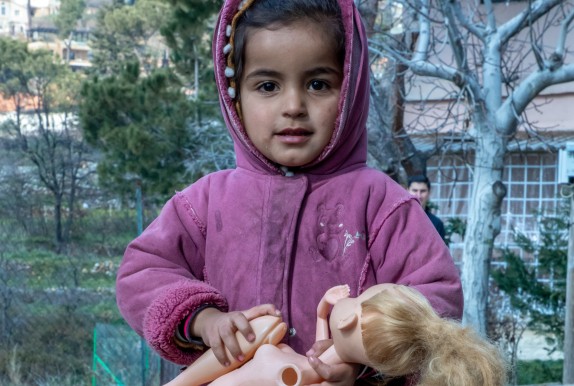 Fatima fled Syria with her family after their home was destroyed as a result of the war. They left everything they knew behind and came to Lebanon with only their clothes. With high rents they were left with no choice but to live in flimsy tents in informal settlements - It's illegal for refugees in Lebanon to build permanent structures, so parents are forced to build very basic shelters that can't keep the rain and snow out.
The children are scared when the wind blows and water comes into the tent. I covered them but the blankets are thin, so it is not warm.
We light a fire in a can in the tent. It is small, so there is smoke, but we have no choice. We feel the smoke in the chest.
We are in need of more materials to fix our tents – when it rains, it enters the tents; there are puddles and floods.
Fatima and her family have lived in numerous places but they have been in their current site for a year now. An old sink unit attached to a water container is the only source of water in the camp, and with no sanitation the living conditions are dire and dangerous. The settlements aren't designed for such large groups of people – to reach the toilets, children must trek long distances through the freezing mud. In these conditions, the risk of children falling sick from respiratory diseases is incredibly high. One of Fatima's sons has asthma, he needs a spray but the family cannot afford it. "The economic situation is very hard; we are not capable of buying our daily basic needs."
Fatima and her husband are doing everything they can to earn money. They work with their older children in the greenhouses near their makeshift tent – it's exhausting work in incredibly cold conditions for an income that barely covers their rent, let alone food or medicine.
Parents are desperate to protect their children, but they simply can't afford a safe, warm place to live, or the medicine their children need. Mothers like Fatima are remarkably resilient, keeping their families together in these incredibly difficult circumstances but, without help, they face an almost impossible task.
We are very relieved we have windows now. It was very very cold before. We all sleep in one room to stay warm in winter.
Everyday more and more refugees are struggling to survive the winter temperatures in unheated leaky tents – places no child should call home. Concern is the main organisation providing shelter materials in northern Lebanon and we are working tirelessly to reach remote areas with the shelter materials needed but we simply don't have enough.
Please give what you can today, to help provide shelter and warmth to families this Christmas.