Voices from the field: the face of hunger in South Sudan
South Sudan's Country Director, Fiona McLysaght, reveals the face of hunger, challenging contexts, and what we are doing to help communities in South Sudan, where 1.7 million people are on the brink of famine.
It has been estimated that 6 million people, 50% of the population, are severely food insecure during the height of the lean season (July 2017) in South Sudan. 
The situation is extremely difficult for the communities in which we work, and the level of malnutrition is getting worse – especially among young children and vulnerable groups such as the elderly and people living with disabilities. As Country Director, I help to prevent the situation from deteriorating further and work towards improving things for the communities most affected by delivering Concern's programmes in nutrition, health, and food, both independently and in collaboration with other organisations. However, with so many people in need, it's often very hard to prioritise what support to give, and where.
In our nutrition programmes, Concern specifically targets children under the age of five, and pregnant women who are severely malnourished. I'm often asked what hunger truly looks like in South Sudan, and all I can say is that a hungry child looks sad and scared, their skin is dull and sagging, their frame is small and fragile and they have no energy to walk, talk or play; the inquisitive look of a well fed child is replaced with vacant stares. We are treating malnourished children and women in one of the counties – Leer – where famine was declared in February, and although this status has been withdrawn, 1.7 million people are still on the brink of starvation. You can only imagine what this looks like.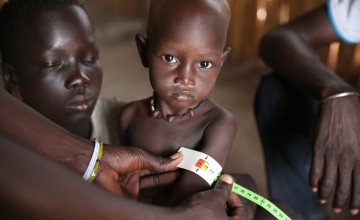 People also often ask me if I think there is any light at the end of the tunnel for the people of South Sudan: "what does the future look like for these suffering people?" My answer is that for the 6 million people facing food shortages, the outlook is precarious. There are 2 million people that have had to leave their homes, and 1.8 million people have fled the country as refugees and are living in camps in neighbouring countries, one million of whom are children.  Humanitarian aid will help to save lives and alleviate suffering, but without a political solution the situation looks dire.
Conflict is the main cause of the famine in South Sudan and continues to impede access to communities experiencing food shortages. Without a genuine ceasefire and political discussions that address justice and inequality, insecurity and the food crisis will persist. Because of this, it is very hard to deliver aid in the famine zone – in fact, in most of the areas where Concern works, the practicality of delivering aid is immensely challenging. For example, in Leer county canoes are used to transport our supplies and staff have to walk through the swamps to reach women and children who need food and medical treatment.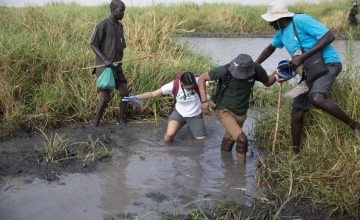 However, enabling easier access will not only save lives, but also money.
It is much more expensive to provide aid in a conflict zone. Due to attacks on the road, staff and supplies (including huge quantities of food and shelter supplies), have to be airlifted rather than transported by road. Additional measures also need to be put in place for personal security of staff, including additional security guards, training and security infrastructure.
Despite the challenges, aid is getting through
Concern works in South Sudan because of these difficulties – we work in some of the poorest and most difficult places in the world. There may be immense challenges, but through our hard work and perseverance, there is the chance to make a meaningful difference to people's lives. We've adapted to our surroundings by increasing food and nutrition programmes and the number of health centres, and in turn have seen a lot of success in both Northern Bahr Ghazal and in the POCs (Protection of Civilians camps), where we are providing food, water, sanitation and shelter to 150,000 people who have fled there from conflict.
We have a number of robust systems in place to ensure that supporter's money is spent effectively, and while I can understand why people may worry about their support getting through in conflict-affected areas, I wholeheartedly encourage them to keep an open mind and to learn more about Concern and the work we do. I would like to thank people for their support so far, and let them know that it is very much appreciated by the famine-affected communities of South Sudan.