Help families facing Pakistan's hunger crisis
In Pakistan, the climate crisis has pushed millions to the brink of hunger. Will you help children and their families survive?
In Sindh province, Pakistan, the changing climate is not a distant threat - it's a deadly reality. A long-lasting drought has ruined harvests for over seven years, leading to a hunger crisis. Right now, three million people have no food, no income and no resources, and are in urgent need of support.
Subbi's family have contributed almost nothing to this global climate crisis - yet, as temperatures rise, it's Subbi and her children who are being impacted most. 29% of children in Sindh are suffering from malnutrition including Subbi's daughter, Wazeeran. Thankfully, we were able to reach Wazeeran with life-saving treatment just in time, but there are many more children like her who need help right now.
We're working with families who are most at risk, and anything you can give would make a huge difference. Please will you help save children's lives today?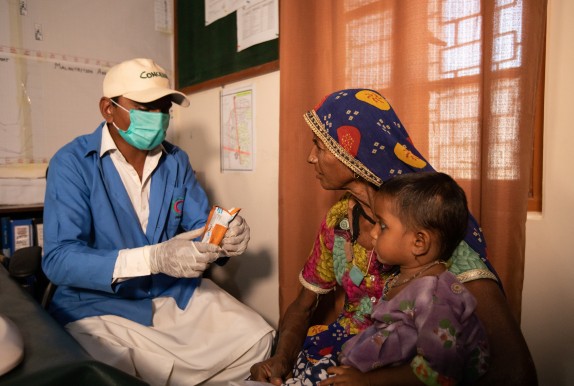 I want to donate
Giving £21 could provide two weeks' worth of life-saving emergency therapeutic food for a malnourished child
We're supporting health centres in Sindh to treat malnourished children like little Wazeeran
Like most parents living in rural Sindh, Subbi is dependent on farm work. But years of drought have ruined her harvests and, consequently, her livelihood.  
With almost nothing to eat but chillies, Subbi and her young children go to bed every night weak with hunger. This led to her young daughter, Wazeeran, becoming critically ill with malnutrition. 
Subbi took her to a Concern-supported health centre for treatment. Thankfully, the dedication of the team and a course of emergency therapeutic food that Subbi gives her every day, Wazeeran is showing signs of recovery.  
Wazeeran has a long road ahead of her. But, thanks to donations from people like you, she is on the road to recovery and Subbi has been given hope for her family's survival. 
A gift today can protect lives in Pakistan and prevent more families from going hungry
Our teams are helping families in Sindh to stay healthy, preventing hunger and treating malnutrition
Last year, our teams treated 13,800 children in Sindh for severe acute malnutrition, with therapeutic food. We couldn't have made this difference without the incredible generosity of supporters like you.
With your help, we can ensure more hungry children in Pakistan receive life-saving food, and offer mothers like Subbi emergency cash to buy essentials for their families while they have no work. Your support can help provide vulnerable communities with seeds, tools and climate-smart farming training, so that they can protect their crops from future droughts and keep their families healthy.