Help give Life-Saving Food Packages to refugee families
Refugee families living in Gambella would do anything to save their children from a lifetime of hunger, but there is only so much they can do alone.
Ethiopia is home to the fifth largest refugee population in the world. In the Gambella region alone there are over 300,000 people living in refugee camps, and sadly one in ten children under five are malnourished. Families who live there receive food rations, but they are limited. On average, families will go one day a week without food and due to a lack of fresh fruit and vegetables, their children aren't getting the nutrients they desperately need.
That's why Concern's Life-Saving Food Packages are a lifeline for refugee families. By providing emergency therapeutic food, as well as seeds, farming tools and training, these packages enable families to grow their own food and feed their children nutritious fruit and vegetables throughout the year. This means their children can get the nutrients they need to grow up strong and healthy.
Please help give a Life-Saving Food Package that could break the cycle of hunger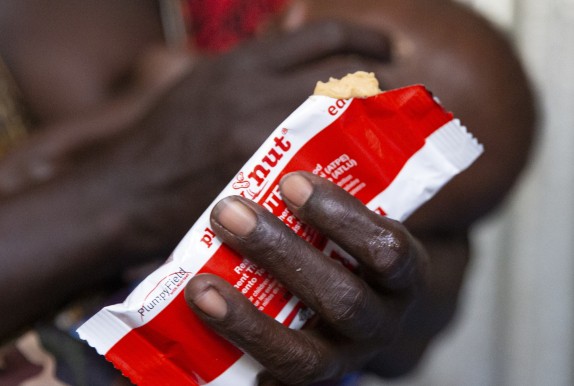 I want to donate
£25 could fill a Life-Saving Food Package with enough therapeutic food to treat a malnourished child for five weeks.
Why Life-Saving Food Packages?
Refugee families have always struggled to get enough to eat. At Concern, we're doing everything we can to save children's lives and make sure they don't have to suffer from hunger and malnutrition again, so our packages of support do more than ensure their survival.

"When I saw the improvement in his health, I was so happy"
How Concern is supporting refugee families like Nyariemi's in Gambella
Our work to treat malnutrition in children today means little if we can't help them break free from hunger in the future, so our packages of support do more than ensure their survival.
 
As well as life-saving therapeutic food to treat malnutrition, our packages also provide seeds, farming tools and training, so families can grow their own fruit and vegetables on a small plot of land in the camp.
These gardens mean refugee families who have lost everything can make sure their children grow up strong and healthy, keeping malnutrition at bay.
The gardens also give families more independence as seeds can be saved to plant for the next season, meaning families will rely less and less on Concern's help as time goes by.