Help a mother save her child
South Sudan is experiencing the worst levels of hunger on record, and mothers and children desperately need your help.
Across the country, hunger levels are being exacerbated by continuous conflict and economic conditions, forcing families to flee their homes in search of safety and food to eat.
Each day, more mothers are seeking assistance to help their sick children, in the hopes that they can receive emergency food and medical assistance to save their children's lives. William Bol, Nutrition Project Officer in South Sudan, has said the situation in Bentiu IDP (Internally Displaced Persons) Camp is deteriorating rapidly, with an influx of refugees entering from Sudan due to ongoing conflict.
Supplies are already running low, and with more families seeking assistance, there simply isn't enough to help those who need it most.
South Sudan is in crisis; will you help these mothers save their children's lives?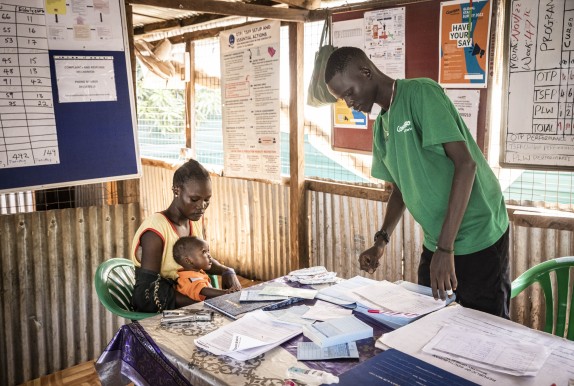 Nyahok and Nyariek's Story
Nyahok and her two children, four-year-old Teybuom and 10-month-old Nyariek, were forced to flee to Bentiu IPD Camp due to violence in their home region. Nyahok said, "They used to come attack us in our village so we would flee into the bush. We would stay there until they left. And then come back to the village. We would do this often, but then we got tired. That is why we went to the camp for safety".
Nyahok was forced to leave her husband behind in the hopes he could find work to provide for the family; they used to rear cattle for a living but all 28 of their cattle were stolen when conflict broke out.
While at the camp, Nyahok's youngest child, her 10-month-old daughter Nyariek, was suffering from vomiting and diarrhoea, she then developed a fever. Nyahok became worried about Nyariek, so brought her to the nutrition clinic where she was screened and diagnosed with malnutrition.
Nyahok was given a course of therapeutic food for Nyariek, and thankfully she has gained weight. As seen in the image below, Concern Nutrition Assistant, Gattuor Deng, is using a MUAC (Mid Upper Arm Circumference) band to measure Nyariek's improvement.
"After coming to the clinic for the second time, I have found that my child is gaining weight. Which is a great relief".
"The food we get is never enough. There is not enough to go around. But it is good Concern is here. They visit communities and search for malnourished children, even if we have not even called them".
Lastly, Nyahok says, "I hope that my husband can save up the money to come join me here and start a better life".
A gift from you today could..
More children are at risk of malnutrition with each day that passes, and Concern is reaching over 142,000 people through 78 nutrition centres across South Sudan, but we cannot continue without your support. Please send an urgent gift today.
William Bol and his team are working tirelessly to reach as many families as they can, but they cannot continue their life-saving work without your support.
Please, if you are able to, give a gift today to help protect more children from deadly hunger.